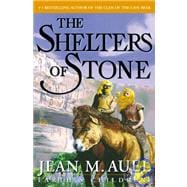 Note: Supplemental materials are not guaranteed with Rental or Used book purchases.
ISBN: 9780609610596 | 0609610597
Cover: Hardcover
Copyright: 4/30/2002
The Shelters of Stoneopens as Ayla and Jondalar, along with their animal friends, Wolf, Whinney, and Racer, complete their epic journey across Europe and are greeted by Jondalar's people: the Zelandonii. The people of the Ninth Cave of the Zelandonii fascinate Ayla. Their clothes, customs, artifacts, even their homesformed in great cliffs of vertical limestoneare a source of wonder to her. And in the woman Zelandoni, the spiritual leader of the Ninth Cave (and the one who initiated Jondalar into the Gift of Pleasure), she meets a fellow healer with whom to share her knowledge and skills. But as Ayla and Jondalar prepare for the formal mating at the Summer Meeting, there are difficulties. Not all the Zelandonii are welcoming. Some fear Ayla's unfamiliar ways and abhor her relationship with those they call flatheads and she calls Clan. Some even oppose her mating with Jondalar, and make their displeasure known. Ayla has to call on all her skills, intelligence, knowledge, and instincts to find her way in this complicated society, to prepare for the birth of her child, and to decide whether she will accept new challenges and play a significant role in the destiny of the Zelandonii. Jean Auel is at her very best in this superbly textured creation of a prehistoric society.The Shelters of Stoneis a sweeping story of love and danger, with all the wonderful detailbased on meticulous research that makes her novels unique. It is a triumphant continuation of the Earth's Children saga that began withThe Clan of the Cave Bear. And it includes an amazing rhythmic poem that describes the birth of Earth's Children and plays its own role in the narrative ofThe Shelters of Stone.