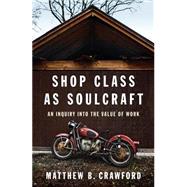 Note: Supplemental materials are not guaranteed with Rental or Used book purchases.
ISBN: 9781594202230 | 1594202230
Cover: Hardcover
Copyright: 5/28/2009
In this wise and often funny book, a philosopher/mechanic systematically destroys the pretensions of the high-prestige workplace and makes an irresistible case for working with one's hands Shop Class as Soulcraft brings alive an experience that was once quite ordinary, but now seems to be receding over the cultural horizon - the experience of making and fixing things. Working with your hands, as Mathew B. Crawford describes it, connects us to the world around us. Those of us who sit in an office often have intuitions of something gone amiss, a sense of unreality accompanied by feelings of impotence. What, after all, do we do all day? In this wholly original debut, Crawford offers a brief for self-reliance and a sustained reflection on this problem: how to live concretely in an ever more abstract world. Shop Class as Soulcraft seeks to restore the honor of the manual trades as a life worth choosing for anyone who felt hustled off to college, then to the cubicle, against their own inclinations and natural bents. On both economic and psychological grounds, Crawford questions the educational imperative of turning everyone into a "knowledge worker." This imperative, he explains, is based on a misguided separation of thinking from doing, the work of the hand from that of the mind. Crawford shows in precise detail how such a partition, which began a century ago with the assembly line, degrades work for those on both sides of the divide. But he offers good news as well: The manual trades are very different from factory work. They require a lot of thinking and may even give rise to moments of genuine pleasure. Based on his own experience as an electrician and mechanic, Crawford makes a case for the intrinsic satisfactions and cognitive challenges - the soulcraft - of manual work. The work of builders and mechanics cannot be outsourced. They tie us to the local communities in which we live and instill the pride that comes from doing work that is genuinely useful. Speaking squarely to a culture that continues to grapple for a way to reconcile work and life and to find fulfilling work of all stripes, Shop Class as Soulcraft offers inspired social criticism and deep personal exploration. It will change your understanding of the value of work and the work of bringing value and meaning to your life, whatever you do now or hope to do one day.