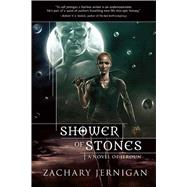 Note: Supplemental materials are not guaranteed with Rental or Used book purchases.
ISBN: 9781597808170 | 1597808172
Cover: Hardcover
Copyright: 7/14/2015
The follow-up to Zachary Jernigan's critically-acclaimed literary debut No Return.

At the moment of his greatest victory, before a crowd of thousands, the warrior Vedas Tezul renounced his faith, calling for revolt against the god Adrash, imploring mankind to unite in this struggle.

Good intentions count for nothing. In the three months since his sacrilegious pronouncement, the world has not changed for the better. In fact, it is now on the verge of dying. The Needle hangs broken in orbit above Jeroun, each of its massive iron spheres poised to fall and blanket the planet's surface in dust. Long-held truces between Adrashi and Anadrashi break apart as panic spreads.

With no allegiance to either side, the disgraced soldier Churls walks into the divided city of Danoor with a simple plan: murder the monster named Fesuy Amendja, and retrieve from captivity the only two individuals that still matter to her—Vedas Tezul, and the constructed man Berun. The simple plan goes awry, as simple plans do, and in the process Churls and her companions are introduced to one of the world's deepest secrets: A madman, insisting he is the link to an ancient world, offering the most tempting lie of all... Hope.

Concluding the visceral, inventive narrative begun in No Return, Shower of Stones pits men against gods and swords against civilization-destroying magic in the fascinatingly harsh world of Jeroun.

Skyhorse Publishing, under our Night Shade and Talos imprints, is proud to publish a broad range of titles for readers interested in science fiction (space opera, time travel, hard SF, alien invasion, near-future dystopia), fantasy (grimdark, sword and sorcery, contemporary urban fantasy, steampunk, alternative history), and horror (zombies, vampires, and the occult and supernatural), and much more. While not every title we publish becomes a New York Times bestseller, a national bestseller, or a Hugo or Nebula award-winner, we are committed to publishing quality books from a diverse group of authors.