Sleuthing the Alamo Davy Crockett's Last Stand and Other Mysteries of the Texas Revolution
, by
Crisp, James E.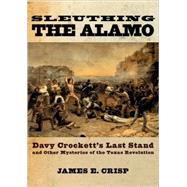 Note: Supplemental materials are not guaranteed with Rental or Used book purchases.
ISBN: 9780195163506 | 0195163508
Cover: Paperback
Copyright: 2/24/2005
In Sleuthing the Alamo, historian James E. Crisp draws back the curtain on years of mythmaking to reveal some surprising truths about the Texas Revolution--truths that are often obscured by both racism and political correctness. This engaging first-person account of historical detective workilluminates the methods of the serious historian who searches for the more complex truths behind the glorious myths. Beginning with a personal prologue recalling both the pride and the prejudices that he encountered in the Texas of his youth, Crisp illustrates how he discovered documents that have been distorted, censored, and ignored. In four chapters focusing on specific documentary "finds," he uncoversthe clues that led to these archival discoveries. Along the way, the cast of characters expands to include: a prominent historian who tried to walk away from his first book; an unlikely teenaged "speechwriter" for General Sam Houston; three eyewitnesses to the death of Davy Crockett at the Alamo; adesperate inmate of Mexico City's Inquisition Prison, whose scribbled memoir of the war in Texas is now listed in the Guiness Book of World Records; and the stealthy slasher of the most famous historical painting in Texas. In his afterword, Crisp explores the evidence behind the mythic "Yellow Roseof Texas" and examines some of the powerful forces at work in silencing the voices from the past that we most need to hear today. An indispensable resource for anyone interested in the Alamo or historical detective work, Sleuthing the Alamo is also ideal for undergraduate courses in historicalmethodology, southwestern borderlands, the American West, Texas history, American expansion, Mexican-American history, race relations, and Southern history.