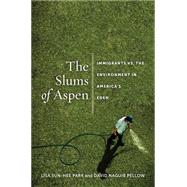 Note: Supplemental materials are not guaranteed with Rental or Used book purchases.
ISBN: 9780814768037 | 0814768032
Cover: Hardcover
Copyright: 9/1/2011
Environmentalism usually calls to mind images of peace and serenity, a oneness with nature, and a shared sense of responsibility. But one town in Colorado, under the guise of environmental protection, passed a resolution limiting immigration, bolstering the privilege of the wealthy and scapegoating Latin American newcomers for the area's current and future ecological problems. This might have escaped attention, save for the fact that this wasn't some rinky-dink backwater. It was Aspen, Colorado, playground of the rich and famous and the West's most elite ski town. Tracking the lives of immigrant laborers through several years of exhaustive fieldwork and archival digging,The Slums of Aspentells a story that brings together some of the most pressing social problems of the day: environmental crises, immigration, and social inequality. Park and Pellow demonstrate how these issues are intertwined in the everyday experiences of people who work and live in this wealthy tourist community. Developing the idea of "environmental privilege"--the economic, political, and cultural power that some groups enjoy, which enables them exclusive access to coveted environmental amenities such as forests, parks, mountains, rivers, coastal property, open lands, and elite neighborhoods--they argue that this odd marriage of environmental and nativist groups occurs because of population fears--both want less people, especially if they are the brown sort.