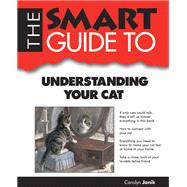 Note: Supplemental materials are not guaranteed with Rental or Used book purchases.
ISBN: 9780983442189 | 0983442185
Cover: Paperback
Copyright: 3/31/2012
Gandhi said "The greatness of a nation can be judged by the way its animals are treated."If you were to take a survey of America's domestic cats, they would say quite definitely that America is the Greatest of Nations! Of course most of them don't remember ancient Egypt where Cats were thought to be gods, quite literally. However, from what we see of American cat behavior, many of our little beauties think they are still gods. But, attitude or not, how we love them!The Smart Guide to Understanding Your Cat is an easy-to-read, comprehensive and enjoyable handbook that will give you new insights into the cat(s) in your life: how they think, how they express affection, how they make choices, and why they do what they do. Among the topics covered in this many-faceted guide will be:The many meanings of a cat's body languageChoosing a cat that's right for youCan a feral cat be tamed?What a cat should NOT eatCaterwauling in the night and raising kittensMaking your home cat-friendlyHaving fun with your catCaring for the older catAnd lots more, even how to start a cat-loving club.