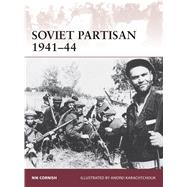 Note: Supplemental materials are not guaranteed with Rental or Used book purchases.
ISBN: 9781472801432 | 1472801431
Cover: Paperback
Copyright: 6/17/2014
From the start of Barbarossa, large numbers of Soviet troops and civilians were cut off behind Nazi German lines in what Stalin termed the Great Patriotic War. We know this in the West as the Russo-German part of World War II, but for many partisans it began as a life and death struggle simply to survive.
The partisan war in the Soviet Union from 1941 to 1944 has been the subject of considerable political manipulation in the decades following 1945. In great part this was due to the need to project the image of a country united behind Joseph Stalin and the Communist regime when the truth was much more complex than that. The opening weeks of Operation Barbarossa had exposed the lack of unity in the Soviet Empire as nationalist and anti-Communist groups emerged in the western provinces such as Belo Russia, Galicia, Bukovina, Ukraine and the Baltic states of Latvia, Lithuania and Estonia. Consequently it was vital for the survival of the Soviet Union that such groups were countered in situ and that the authority of Moscow was maintained in what were known as the Occupied Territories.
During the summer of 1941 plans, dormant since the 1930s, for the conduct of partisan warfare behind the lines of an invading force were resurrected. The plans were intended to make life for the invaders as problematic as possible by acts of sabotage, by bleeding off troops from the front line to provide security for the ever lengthening supply lines, to discourage collaborators through acts of retaliation but most important of all to maintain the physical presence of Soviet authority.
The term Soviet Partisan of covers a wide variety of warrior types ranging from the highly trained, well-armed and motivated NKVD volunteer to the ordinary civilian refugee fighting for his or her life with precious little training, experience or weaponry. Between these two groups are the isolated formations of Red Army men cut off from their units by the speed of the Axis invasion in 1941, ad hoc local formations that gathered around a charismatic local Communist Party official or simply patriotic Russian civilians who wanted to fight back. One group often overlooked is the Jewish partisan bands who sought refuge in the forests and marshes from the tentacles of the Einsatzgruppen and the ethnic cleansing policies of the Third Reich. During the course of 1942-43 these and other groups fell under the control of the Central HQ of the Partisan Movement (CHQPM). However, The very nature of partisan warfare still required the individual to think for themselves and to bend the letter of the order to local circumstance consequently it remained much more the fight of an individual warrior as opposed to the faceless of mass of army versus army warfare.