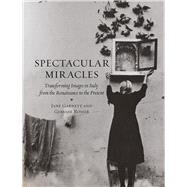 Note: Supplemental materials are not guaranteed with Rental or Used book purchases.
ISBN: 9781780231051 | 1780231059
Cover: Hardcover
Copyright: 6/15/2013
Spectacular Miraclesconfronts an enduring Western belief in the supernatural power of images: that a statue or painting of the Madonna can fly through the air, speak, weep, or produce miraculous cures. Although contrary to widely held assumptions, the cults of particular paintings and statues held to be miraculous have persisted beyond the middle ages into the present, even in a modern European city such as Genoa, the primary focus of this book. Drawing upon rich documentation from northwest Italy and elsewhere, Spectacular Miraclesshows how these images "work" in a range of historical contexts. Jane Garnett and Gervase Rosser vividly evoke ritual animation of the image and the phenomenology of the beholder's experience. These images, they demonstrate, have the subversive potential of the miraculous image to bypass clerical and secular authority, a power enhanced by reproducibility-devotion is hard to control when a copy of a venerated image is held to carry the same supernatural potential as the original, even when in a digital form mediated by the Internet. Engaging with the history, anthropology, and visual culture of images and religion, Spectacular Miraclesis a convincing study of the continuing power of faith and art.