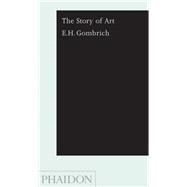 Note: Supplemental materials are not guaranteed with Rental or Used book purchases.
ISBN: 9780714847030 | 0714847038
Cover: Paperback
Copyright: 10/7/2006
New Format and Redesign of the World'sBest Selling Art Book"Gombrich (1909-2001) had a gift for clear, conversational language, anarrative approach, and an interest in pop culture--he even included massmedia and cartoons in The Story of Art. The book, which receives highpraise in the CAA report [a recent assessment of art history textbooks bythe College Art Association], is today the world's best selling art historytextbook, with total sales of 8 million copies."-Art News, February 2006E.H. Gombrich's warm, lively, opinionated--yet never patronizing--authorialvoice brings history to life in a way that attracts both adults and youngreaders alike.Last year the first English translation of A Little Historyof the World, originally written in 1935 in German, was a surprisepublishing success.Yet, this isn't even Gombrich's most popular work. The Story of Art has sold over 8 million copies, has been translated intomore than 30 languages and served as the standard introduction to arthistory for students around the world for the past century.Now, the bookwill be available in a new affordable format, in wide release for thegeneral public, just in time for the holidays.Phaidon Press is pleased to announce the publication of THE STORY OF ART:POCKET EDITION by E.H. Gombrich, a re-designed, re-formatted compactedition of one of the best-known and best-loved books on art ever written. This new edition combines smoothly flowing text with a clear, simple designin a convenient and accessible format.The new edition allows this classicwork to continue its triumphant progress for another generation, and toremain the first choice for all newcomers to art. Phaidon Press commissioned Gombrich during World War II to write a historyof art for young people.In 1950, The Story of Art was published and so aclassic was born.Gombrich dictated the whole text from memory, usingillustrations from books in his library as prompts.The outcome was aseminal work of criticism and one of the most accessible introductions tothe visual arts.Starting with the cave paintings at Lascaux andstretching as far as Postmodernism, the whole of art history is presentedas a chronological narrative.Using vivid imagery, storytelling and slyhumor, Gombrich's voice draws in all--the student, connoisseur, or amateur. The Story of Art has always been admired for two key qualities: it is apleasure to read and a pleasure to handle.The pocket edition is noexception.With this new edition this classic work is now as accessible asthe story inside.Gombrich's extraordinary knowledge and wisdom willcontinue to teach and inspire generation after generation.