Strategy for Empire U.S. Regional Security Policy in the PostDCold War Era
, by
Loveman, Brian
;
W. Bush, President George
;
Catoire, Richard G.
;
Graubart, Jonathan
;
Gupta, Dipak K.
;
Ignatieff, Michael
;
Johnson, Chalmers
;
Peters, Ralph
;
Russell, James A.
;
Schoultz, Lars
;
Schulz, Donald E.
;
Scobell, Andrew
;
C. Thomas, Raju G.
;
Tokatlian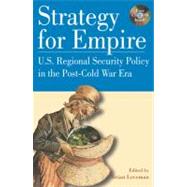 Note: Supplemental materials are not guaranteed with Rental or Used book purchases.
ISBN: 9780842051767 | 0842051767
Cover: Package
Copyright: 8/6/2004
The United States Department of Defense has carved the world into five pieces, called unified military commands, maintaining troops and military leadership in each. The geographic boundaries of the unified commands, which together encompass the entire globe, 'are set in a way that makes sense to us (the U.S.) for political, military, cultural sorts of reasons,' according to the DOD. Yet outside military and defense circles, the potential impact of post-1990 American strategic reach_or perhaps overreach_has not been given sufficient attention. In Strategy for Empire, Brian Loveman fills that gap by raising the key questions all students should be considering: Even under the perilous conditions imposed by global terrorism, diffusion of weapons of mass destruction, and international 'anarchy,' can the United States afford, and should it seek to justify, assigning responsibility to combatant commanders for every area of the globe and maintaining a military presence in well over 100 countries? Can a foreign policy of preemptive deterrence and covert operations around the globe against terrorists, international criminal organizations, and so-called rogue states be compatible with American constitutional democracy? Or has the United States itself become a rogue superpower, at risk of losing its democratic soul and institutions at home and its moral credibility abroad in its efforts to manage a global empire through regional military commands? This timely reader provides answers to these questions from the perspective of American presidents, policymakers, military officers, establishment think tanks, and critical scholars. The text and accompanying CD collect in one place a synthesis of official and semi-official views of post-1990 regional security agendas and of the evolving perception of post-Cold War threat scenarios. The book begins with President George Bush's 'The National Security Strategy of the United States of America' ( September 2002); then presents the views of military strategists, government policymakers, and 'mainline' think tanks; followed by alternative, critical views from leading experts on U.S. security policy. The accompanying CD sends readers directly to major policy documents and studies described in the text. The CD also includes an extensive bibliography of secondary works that focus on regional security policy during the post-Cold War period. The book and CD combined offer teachers a unique resource, providing a wealth of stimulating material for the classroom that is sure to promote critical thinking and spark lively discussion and debate.