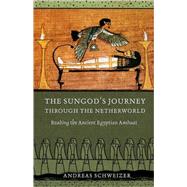 Note: Supplemental materials are not guaranteed with Rental or Used book purchases.
ISBN: 9780801448751 | 0801448751
Cover: Hardcover
Copyright: 4/8/2010
"The ancient Egyptian sources come alive, speaking to us without seeming alien to our modern ways of thinking. Andreas Schweizer invites us to join the nocturnal voyage of the solar barque and to immerse ourselves, with the 'Great Soul' of the sun, into the darkness surrounding us. Here in the illustrations and texts of the Amduat, threats hidden in the depths of our soul become visible as concrete images, an analysis of which remains ever worthwhile: even in the guise of the evil, ominous, or dark side of godhead with which Schweizer concerns himself. The netherworld into which we descend underlies our own world. Creative energies of dreadful intensity are active there, and only death, to which all must surrender, makes us truly alive by offering us regeneration from the depths."-Erik Hornung, from the ForewordThe Amduat (literally "that which is in the netherworld") tells the story of the nocturnal journey of Re, the Egyptian Sungod, through the netherworld from the time when the sun dies, after setting in the west, to its rebirth at sunrise in the east. In the middle of the night, in the profoundest depths of the netherworld, this resurrection is made possible by a mystical union of the sun with the mummified body of Osiris, god of the dead. This great mystery of the union between the freely moving soul of the Sungod, longing for the bright and boundless sky, with Osiris's corpse, which is irrevocably bound to the subterranean realm of the dead, evokes the renewal of all life and the restoration of totality. In the Egyptian belief system, the pharaohs and in later times all blessed dead embarked on this same "night-sea journey" after death, ultimately becoming one with Re and living forever. The vision of the afterlife elaborated in the Amduat, dating from around 1500 B.C.E., has been influential for millennia, providing the model for an entire genre of Egyptian literature, the Books of the Afterlife, which in turn endured into the Greco-Roman era. Its themes and images persisted into gnostic and alchemical texts and made their way into early Christian portrayals of the beyond. In The Sungod's Journey through the Netherworld, Andreas Schweizer guides the reader through the Amduat, offering a psychological interpretation of the principal verbal and visual (iconographic) images. He is concerned with themes that run deep and wide in human experience, drawing on Jungian archetypes to find similar expression in many cultures worldwide: sleep as death; resurrection as reawakening or rebirth; and salvation or redemption, whether from original sin (as for Christians) or from the total annihilation of death (as for the ancient Egyptians).