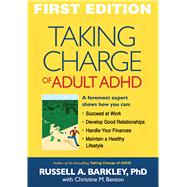 Note: Supplemental materials are not guaranteed with Rental or Used book purchases.
ISBN: 9781606233382 | 1606233386
Cover: Paperback
Copyright: 7/22/2010
For adults with ADHD, problems with attention, planning, problem solving, and controlling emotions can make daily life an uphill battle. Fortunately, effective help is out there. No one is a better guide to how to get the best careand what sufferers can do for themselves than renowned ADHD researcher clinician Russell A. Barkley. Dr. Barkley provides step by step strategies for managing symptoms and reducing their harmful impact. Readers get hands on self assessment tools and skills building exercises, plus clear answers to frequently asked questions about medications and other treatments. Specific techniques are presented for overcoming challenges in critical areas where people with the disorder often struggle work, finances, relationships, and more. Finally, an authoritative one-stop resource for adults with ADHD who are ready to take back their lives.
"Dr. Barkley's advice to individuals who have ADHD or think they might represents a remarkable blend of science and practicality. This book offers a lifeline to adults with ADHD and their families."-Michael Gordon, PhD, Director, ADHD Program, Department of Psychiatry, State University of New York Upstate Medical University
"Consider this book the Rosetta Stone of adult ADHD. No one but Dr. Barkley could translate the sophisticated grasp of ADHD for which he is well known into lay terms and solid strategies. Comprehensive, immensely practical, highly readable, and wholly compassionate, Taking Charge of Adult ADHD is the definitive guide for adults with ADHD and the people who care about them."-Gina Pera, author of Is It You, Me, or Adult A.D.D.?
"This book will surely become a classic. If you are an adult with ADHD, Dr. Barkley can help you make sense of your lifelong struggles and develop a clear road map for overcoming them. Stories and examples from others facing the same challenges bring Dr. Barkley's ideas to life. I will certainly recommend this easy to read yet scientifically based book to everyone who comes through our adult ADHD clinic."-J. Russell Ramsay, PhD, Codirector, Adult ADHD Treatment and Research Program, University of Pennsylvania
"Barkley debunks common myths about medications and co-occurring disorders and offers straightforward advice on how to improve quality of life….Verdict: This is a comprehensive and scientifically based yet comprehensible manual for understanding and managing adult ADHD. With this information, adults with ADHD or those close to them can be informed consumers of available treatment options, behavioral strategies, and supplemental support resources."-Library Journal