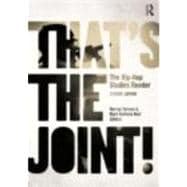 Note: Supplemental materials are not guaranteed with Rental or Used book purchases.
ISBN: 9780415873260 | 0415873266
Cover: Paperback
Copyright: 8/2/2011
"Before That's the Joint I spent countless hours making photo-copies of essays and articles on hip hop for my students. When That's the Joint dropped it changed everything. It took hip hop studies to the next logical level and, hopefully, with the second edition Forman and Neal will take hip hop studies to an even higher level. That's the Joint! , indeed, it is the sure shot!" -- Reiland Rabaka, Department of Ethnic Studies, University of Colorado, Boulder, USA" That's the Joint! stands as the seminal Hip Hop studies volume. It is comprehensive in scope, incorporating works from the leading scholars, journalists and practitioners in the genre. Moreover, it treats the subject in a rigorous academic manner, while making the readings accessible to a broader audience." -- Melina Abdullah, California State University, Los Angeles, USAThat's the Joint!: The Hip-Hop Studies Reader brings together the best-known and most influential writings on rap and hip-hop from its beginnings to today. Spanning more than thirty years of scholarship, criticism, and journalism, this unprecedented anthology showcases the evolution and continuing influence of one of the most creative and contested elements of global popular culture since its advent in the late 1970s. Think of it as "Hip-Hop 101."This newly expanded and revised second edition of That's the Joint! brings together the most important and up-to-date hip-hop scholarship in one comprehensive volume. Presented thematically, the selections address the history of hip-hop, identity politics of the "hip-hop nation," debates of "street authenticity," gender, revolutionary politics, aesthetics, technologies of production, hip-hop as a cultural industry, and much more. The new edition includes expanded coverage of gender and racial diversity in hip-hop, and takes a look at hip-hop's role in politics, including the 2008 presidential election of Barack Obama.The new edition also includes expanded pedagogical features including author biographies, headnotes summarizing key points of articles, questions for discussion, and references for further reading, listening, and viewing. A Companion Website includes student and instructor resources to encourage classroom discussion and point students to web resources for further study of classic and contemporary hip-hop.That's the Joint! is essential reading for fans and scholars alike, and rewarding for anyone who seeks to understand the profound impact of hip-hop as an intellectual, aesthetic, and cultural movement.