Thinker Belles and Evil Queens : The Walt Disney Company from the Inside Out
, by
Griffin, Sean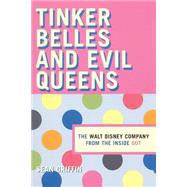 Note: Supplemental materials are not guaranteed with Rental or Used book purchases.
ISBN: 9780814731239 | 0814731236
Cover: Paperback
Copyright: 2/1/2000
In this sprightly analysis of classical and contemporary Disney fare, queer theorist Griffin breaks new ground in media and cultural studies while outdoing right-wing politicians and fundamentalists who see homosexuality everywhere... Griffin is careful in building his argument that Disney images have been enormously influenced by gay culture and in showing how gay culture has, in turn, claimed and appropriated those images.--Publishers WeeklyPresents Disney culture-so often thought of as a bastion of mainstream, heterosexual family values-in a fascinating and illuminating new light. Tinker Belles and Evil Queens is sharp and rigorously researched work. A veritable alternative history of Disney.--Dana Polan, University of Southern CaliforniaFrom its Magic Kingdom theme parks to its udderless cows, the Walt Disney Company has successfully maintained itself as the brand name of conservative American family values. But the Walt Disney Company has also had a long and complex relationship to the gay and lesbian community that is only now becoming visible.In Tinker Belles and Evil Queens, Sean Griffin traces the evolution of this interaction between the company and gay communities, from the 1930s use of Mickey Mouse as a code phrase for gay to the 1990s Gay Nights at the Magic Kingdom. Armed with first-person accounts from Disney audiences, Griffin demonstrates how Disney animation, live-action films, television series, theme parks, and merchandise provide varied motifs and characteristics that readily lend themselves to use by gay culture. But Griffin delves further to explore the role of gays and lesbians within the company, through an examination of the background of early studio personnel, an account of sexual activism within the firm, and the story of the company's own concrete efforts to give recognition to gay voices and desires.The first book to address the history of the gay community and Disney, Tinker Belles and Evil Queens broadly examines the ambiguous legacy of how modern consumerism and advertising have affected the ways lesbians and gay men have expressed their sexuality. Disney itself is shown as sensitive to gay and lesbian audiences, while exploiting those same audiences as a niche market with strong buying power. Finally, Griffin demonstrates how queer audiences have co-opted Disney products for themselves-and in turn how Disney's corporate strategies have influenced our very definitions of sexuality.