Tonic Water Fluid, dynamic approaches towards Environmental Leadership
, by
Urbonas, Wano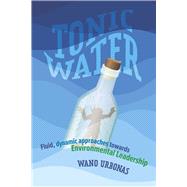 Note: Supplemental materials are not guaranteed with Rental or Used book purchases.
ISBN: 9798350911916 | 8350911913
Cover: Paperback
Copyright: 10/24/2023
Tonic Water is an innovative Environmental Leadership guidebook that intends to collaboratively and gregariously excavate and energize leadership capacity throughout our conservation communities. In order to significantly enhance the integrity of our natural and human environment, Tonic Water tries its hardest to inflict thirst upon the reader. By instilling unorthodox-yet-vital environmental leadership principles and possibilities into potential leadership equations, readers will progressively develop a greater green leadership desire that provokes action and reaction, percussion and repercussions, with elements of Environmental Leadership regurgitation as a positive indicator.
Tonic Water concocts a smorgasbord of Environmental Leadership anecdotes and potential antidotes, challenging the reader to utilize their internal fortitude to perform self-examinations of their personal conservation conviction and commitment towards ecosystem health. Tonic Water serves as a transformational Environmental Leadership guide that challenges our current and future green leaders to immerse themselves into our ecological innards (airsheds, watersheds, foodsheds) and to devise community-specific Conservation Leadership agendas.
Tonic Water is a fluid and dynamic Environmental Leadership guidebook, chock-full of exploratory conservation conundrums and environmental health prophecies. Tonic Water serves as a conservation leadership navigator, aiding current and future Environmental Leaders in exploring greener pathways while exposing common pitfalls. Throughout this guidebook, green leadership growth pastures are sown with sound Environmental Science and creative Environmental Education. Tonic Water dives deeper by navigating watersheds in a jocular fashion that promotes concepts of liquid linkages, fluid approaches, hydro-logical cycles, conservation conduits and an ultimate confluence of community stewardship.
Welcome to tomorrow's Environmental Leadership horizon. We rid ourselves of the mundane, milquetoast leadership concepts of yesteryear, and take on newfangled Environmental Leadership as both a critical challenge and a tremendous opportunity! Tonic Water dissects the essential ingredients that green leaders are made of and plunges into exploration of eco-challenges facing watershed protection and regional habitat connectivity. We strive to recruit and hone influential Environmental Leaders who will ultimately produce an amalgam of conservation stakeholders, environmental stewards and regional, impactful green leaders.
Tonic Water will also assist in amplifying your listening and inquisition skills— powerful areas for green exploration and expedition. Tonic Water brazenly assumes the role of Trip Leader, daring you to develop that intense thirst for greener leadership progressions, despite the daunting hurdles and maneuvering required to attain our community-based conservation goals. Tonic Water attempts to be both a catalyst and a cathartic— providing action and reaction, inducing greener labors of love, and engaging stakeholders in Environmental Leadership, Fellowship and 'Followship' potential.
Tonic Water is an environmental science version of 'Show & Tell' leadership, building upon chemical trust, biological respect, physical effort and psychological lessons learned along the way. Our green vision is to produce a sustainable field of robust environmental leaders, serving as purposeful leaders in a vast and varied environmental field. We lead the way!