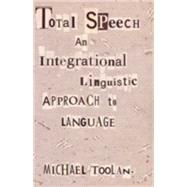 Note: Supplemental materials are not guaranteed with Rental or Used book purchases.
ISBN: 9780822317906 | 0822317907
Cover: Paperback
Copyright: 9/1/1996
Units, rules, codes, systems: this is how most linguists study language. Integrationalists such as Michael Toolan, however, focus instead on how language functions in seamless tandem with the rest of human activity. In Total Speech, Toolan provides a clear and comprehensive account of integrationalism, a major new theory of language that declines to accept that text and context, language and world, are distinct and stable categories. At the same time, Toolan extends the integrationalist argument and calls for a radical change in contemporary theorizing about language and communication. In every foundational area of linguisticsNtilde;from literal meaning and metaphor to the nature of repetition to the status of linguistic rulesNtilde;Toolan advances fascinating and provocative criticisms of received linguistic assumptions. Drawing inspiration from the writings of language theorist Roy Harris, Toolan brings the integrationalist perspective to bear on legal cases, the reception of Salman Rushdie, poetry, and the language of children. Toolan demonstrates that the embeddedness of language and the situation-sensitive mutability of meaning reveal language as a tool for re-fashioning and renewal. Total Speech breaks free of standard linguisticsOtilde; fascinated attraction with Ograve;cognitive blueprintsOacute; and quasi-algorithmic processing to characterize language anew. ToolanOtilde;s reflections on the essence of language, including his important discussion of intention, have strong implications for students and scholars of discourse analysis, literature, the law, anthropology, philosophy of language, communication theory, and cognitive science, as well as linguistics.