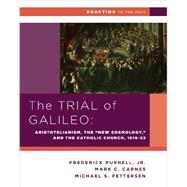 Note: Supplemental materials are not guaranteed with Rental or Used book purchases.
ISBN: 9780393937343 | 0393937348
Cover: Paperback
Copyright: 1/2/2014
In The Trial of Galileo the new science, as brilliantly propounded by Galileo Galilei, collides with the elegant cosmology of Aristotle, Aquinas, and medieval Scholasticism. The game is set in Rome in the early decades of the seventeenth century. Most of the debates occur within the Holy Office, the arm of the papacy that supervises the Roman Inquisition. At times action shifts to the palace of Prince Cesi, founder of the Society of the Lynx-Eyed, which promotes the new science, and to the lecture halls of the Jesuit Collegio Romano. Some students assume roles as faculty of the Collegio Romano and the secular University of Rome, the Sapienza. Others are Cardinals who seek to defend the faith from resurgent Protestantism, the imperial ambitions of the Spanish monarch, the schemes of the Medici in Florence, and the crisis of faith throughout Christendom. Some embrace the "new cosmology," some denounce it, and still others are undecided. The issues range from the nature of faith and the meaning of the Bible to the scientific principles and methods as advanced by Copernicus, Kepler, Tycho Brahe, Giordano Bruno, and Galileo. Central texts include Aristotle's On the Heavens and Posterior Analytics; Galileo's Starry Messenger (1610), Letter to Grand Duchess Christina (1615) and Dialogue on the Two Chief World Systems (1632); the declarations of the Council of Trent; and the Bible.Reacting to the Past is a series of historical role-playing games that explore important ideas by re-creating the contexts that shaped them. Students are assigned roles, informed by classic texts, set in particular moments of intellectual and social ferment. An award-winning active-learning pedagogy, Reacting to the Past improves speaking, writing, and leadership skills, promotes engagement with classic texts and history, and builds learning communities. Reacting can be used across the curriculum, from the first-year general education class to "capstone" experiences. A Reacting game can also function as the discussion component of lecture classes, or it can be enlisted for intersession courses, honors programs, and other specialized curricular purposes.