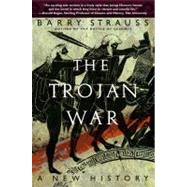 Note: Supplemental materials are not guaranteed with Rental or Used book purchases.
ISBN: 9780743264426 | 0743264428
Cover: Paperback
Copyright: 8/21/2007
The Trojan Waris one of history's most famous conflicts, a ten-year-long war waged over the beautiful Helen. For more than two thousand years this story has been a source of artistic inspiration. But is it true?InThe Trojan Warhistorian and classicist Barry Strauss explores the myth and the reality behind the war, from Homer's accounts inThe IliadandThe Odysseyto Heinrich Schliemann's discovery of ancient Troy in the late nineteenth century to more recent excavations that have yielded intriguing clues to the story behind the fabled city. The Trojans, it turns out, were not ethnic Greeks but an Anatolian people closely allied with the Hittite Empire to the east. At the time of the Trojan War the Greeks were great seafarers while Troy was a more settled civilization. And while the cause of the war may well have been the kidnapping of a queen -- and, more significantly, the seizure of her royal dowry -- the underlying cause was a conflict between the Trojans and the Greeks for control of the eastern Aegean Sea.Through vivid reconstructions of the battles and insightful depictions of its famous characters,The Trojan Warreveals the history behind Homer's great epic, without losing the poetry and grandeur of the epic myth.