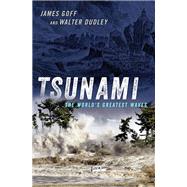 Note: Supplemental materials are not guaranteed with Rental or Used book purchases.
ISBN: 9780197546123 | 0197546129
Cover: Hardcover
Copyright: 3/1/2021
Every year that passes without a tsunami means that we're just that much closer to our next one. What can we do to ensure we're prepared when the next catastrophic tsunami strikes?

The ferocious waves of a tsunami can travel across oceans at the speed of a jet airplane. They can kill families, destroy entire cultures, and even gut nations. To understand these beasts in our waters well enough to survive them, we must understand how they're created and learn from the past.

In this book, tsunami specialists James Goff and Walter Dudley arm readers with everything they need to survive a tsunami — and maybe even avoid the next one. The book takes readers on a historical journey through some of the most devastating tsunamis in human history, some of the quirky ones, and even some that may not even be what most of us think of as tsunamis. Diving into personal and scientific stories of disasters, Tsunami pulls readers into the many ways these waves can be generated, ranging from earthquakes and volcanic eruptions to explosions, landslides, and beyond. The book provides overviews of some of the great historical events - the 1755 Lisbon, 1946 Aleutian, 1960 Chile, and 2004 Indian Ocean tsunamis, but also some of the less well-known as well such as the 1958 Lituya Bay, 563 CE Lake Geneva, a 6,000 year old Papua New Guinean mystery, and even a 2.5 Million year old asteroid. This is not straight science, though. Each event is brought to life in a variety of ways
through stories of survival, human folly, and echoes of past disasters etched in oral traditions and the environment. The book combines research from oceanography, biogeography, geology, history, archaeology and more, with data collected from over 400 survivor interviews. Alongside carefully selected images and the scientific measurements of these tsunamis, the book offers tales of survival, heroism, and tragic loss.

Through a balanced combination of personal experience, the Earth's changing environment, tales of tragedy, and a recount of oral traditions, Tsunami allows readers to engage with a new scientific approach to these overwhelming waves. The resulting book unveils the science of disaster like never before.