Twentieth Century Limited : Industrial Design in America, 1925-1939
, by
Meikle, Jeffrey L.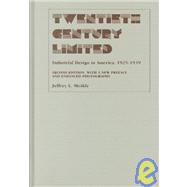 Note: Supplemental materials are not guaranteed with Rental or Used book purchases.
ISBN: 9781566398923 | 1566398924
Cover: Hardcover
Copyright: 5/1/2001
In the late 1920s, "streamlined" became the term businessmen used to described new models that were easier to produce as well as those that met with less sales resistance than older products. Illustrating this concept with streamlined objects from soup cans to the Chrysler building, Jeffrey Meikle's classic book, Twentieth Century Limited, celebrates the birth of the industrial design profession from 1925-1939. This second edition includes a new preface and improved photographic reproduction.Commercial artists who answered the call of business-Walter Dorwin Teague, Norman Bel Geddes, Henry Dreyfuss, and Raymond Loewy the best known among them-were pioneers who envisioned a coherent machine-age environment in which life would be clean, efficient, and harmonious. Working with new materials-chrome, stainless steel, Bakelite plastic-they created a streamlined expressionist style which reflected the desire of the Depression-era public for a frictionless, static society.Appliances such as Loewy's Coldspot refrigerator "set a new standard" (according to the advertisements), and its usefulness extended to the way it improved the middle-class consumer's taste for sleek new products.Profusely illustrated with 150 photographs, Twentieth Century Limited pays tribute to the industrial designers and the way they transformed American culture; a generation after its initial publication, this book remains the best introduction to the subject. The new edition will fascinate anyone interested in art, architecture, technology, and American culture of the 1930s. Author note: Jeffrey L. Meikle is Professor of American Studies and Art History and Chair of the Department of American Studies at the University of Texas at Austin.