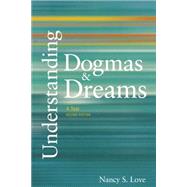 Note: Supplemental materials are not guaranteed with Rental or Used book purchases.
ISBN: 9781933116686 | 1933116684
Cover: Paperback
Copyright: 2/28/2006
Nancy Love&BAD:rs"s concise yet complete volume aims to inform students of their choices among political values. By exploring the assumptions of various ideologies and comparing their positions, students begin to understand political alternatives to be able to choose among them&BAD:-in essence, they learn to think democratically. Offering historical and analytic context for the selections in her companion reader, Dogmas and Dreams, Love challenges students to consider the various ways ideological frameworks shape political actions.Reframing her approach in this second edition, Love examines how traditional left/right ideologies&BAD:-liberalism and conservatism, socialism and fascism&BAD:-are shifting to adapt to new political realities in an ever turbulent, post-9/11 world. She also discusses why alternative ideologies&BAD:-feminism, environmentalism, fundamentalism, and globalization&BAD:-may better convey our global political future. While pushing the boundaries of the left/right political spectrum, she looks at how grassroots social movements offer alternative ways to view ideological differences, from cluster-concepts to micro-discourses, and even a planetary galaxy.Expanded coverage includes:a new chapter on nationalism and globalization, which examines the work of Samuel Huntington, Kenichi Ohmae, Benjamin Barber, and many more, to explore fundamentalism in Islamic politicsincreased coverage of global environmental politics, including Shiva&BAD:rs"s Stolen Harvest and Kelly&BAD:rs"s Thinking Green, examining the relationships between developed and developing countriesfresh material on socialist politics post-1989 and the rise of neo-fascist movements in the United States and Europe, including analysis of Hayden and Flacks&BAD:rs" &BAD:"The Port Huron Statement at 40&BAD:" and Bob Moser&BAD:rs"s &BAD:"The Age of Rage&BAD:"an updated feminism chapter that considers the impact of third-wave, post-colonial, and so-called &BAD:"power&BAD:" feminists and incorporates new analysis of Wollstonecraft&BAD:rs"s A Vindication of the Rights of Woman and Mohanty&BAD:rs"s Under Western Eyes RevisitedA thinking person&BAD:rs"s package&BAD:hellip;Nancy Love wrote Understanding Dogmas and Dreams with her edited collection in mind&BAD:-the two work together as a seamless package and give students great value for their money. Order the two books shrink-wrapped at significant savings.Please specify ISBN 0-87289-287-5. For the full table of contents of Love&BAD:rs"s reader, Dogmas and Dreams, click here.