The Walls Came Tumbling Down Collapse and Rebirth in Eastern Europe
, by
Stokes, Gale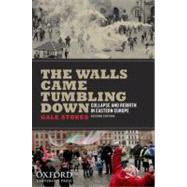 Note: Supplemental materials are not guaranteed with Rental or Used book purchases.
ISBN: 9780199732630 | 0199732639
Cover: Paperback
Copyright: 9/14/2011
Beginning with the 1968 Soviet invasion of Czechoslovakia and culminatingin the 1989-1991 revolutions, The Walls Came Tumbling Down is a sweeping, vividnarrative of the gradual collapse of Eastern European communism. Focusing on thedecades of unrest that precipitated 1989's tumultuous events, and includinginformation obtained firsthand from personal interviews, Gale Stokes provides acomprehensive history of the various communist regimes and the oppositionmovements that brought them down, including the "March Days" and SolidarityMovement of Poland, the 1975 Helsinki accords, Czechoslovakia's Charter 77opposition movement, the autocratic policies of Romania's Nicolae Ceaucescu thatbrought his people to the point of violent outrage, and every other major eventthat marked the crumbling of communism. Stokes also examines the first totteringsteps in 1990-1991 toward pluralist government, from the resignation of MikhailGorbachev to the bloody partitioning of war-torn Yugoslavia. For courses incommunist studies or recent history, The Walls Came Tumbling Down is ideal formaking clear the most widespread and significant upheaval of the lattertwentieth century.