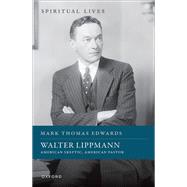 Note: Supplemental materials are not guaranteed with Rental or Used book purchases.
ISBN: 9780192895165 | 0192895168
Cover: Hardcover
Copyright: 9/9/2023
Walter Lippmann was arguably the most recognized and respected political journalist of the twentieth century. His "Today and Tomorrow" columns attracted a global readership of well over ten million. Lippmann was the author of numerous books, including the best-selling A Preface to Morals (1929) and U.S. Foreign Policy (1943). His Public Opinion (1922) remains a classic text within American political philosophy and media studies. Lippmann coined or popularized several keywords of the twentieth century, including "stereotype," the "Cold War," and the "Great Society." Sought out by U.S. Presidents and by America's allies and rivals around the world, Lippmann remained one of liberalism's most faithful proponents and harshest critics.

Yet few people then or since encountered the "real" Walter Lippmann. That was because he kept crucial parts of himself hiding in plain sight. His extensive commentary on politics and diplomacy was bounded by his sense that America had to adjust to the loss of a common faith and morality in a "post-Christian" era. Over the course of his life, Lippmann traded in his fame as a happy secularist for the stardom of a grumpy Western Christian intellectual. Yet he never committed himself to any religious system, especially his own Jewish heritage.

Walter Lippmann: American Skeptic, American Pastor considers the role of religions in Lippmann's life and thought, prioritizing his affirmation and rejection of Christian nationalisms of the left and right. It also yields fresh insights into the philosophical origins of modern American liberalism, including liberalism's blind spots in the areas of sex, race, and class. But most importantly, this biography highlights the constructive power of doubt. For Lippmann, the good life in the good society was lived in irreconcilable tension: the struggle to be free from yet loyal to a way of life; to recognize the dangers yet also necessity of a civil religion; and to strive for a just and enduring world order that can never be. In the end, Lippmann manufactured himself as the prophet of limitation for an extravagant American Century.