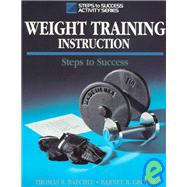 Note: Supplemental materials are not guaranteed with Rental or Used book purchases.
ISBN: 9780873226189 | 0873226186
Cover: Paperback
Copyright: 5/1/1994
The Steps to Success Activity series is the most extensively researched and carefully developed set of sport skill instruction books ever published. The series provides not only outstanding participant books for many sports, but also the most comprehensive instructor guides ever developed for teaching skills. Moreover, the conceptual model developed for the Steps to Success Activity series provides an integrated approach and is explained in Instructional Design for Teaching Physical Activities. The participant and instructor books represent a breakthrough in instruction technology through the development of complete learning progressions - the steps to success. Each of the 16 steps (chapters) in the participant book, Weight Training: Steps to Success, provides students with vital information to complement your instruction, including a basic total-body program for both free weights and machines (single- or multistation pivot and cam), sequential illustrations for correct execution of all lifting techniques, suggestions for detecting and correcting errors, easy-to-difficult practice procedure drills, instructions for charting workouts, specific goals for measuring performance, and summary checklists of keys to correct technique. Weight Training Instruction: Steps to Success is your comprehensive guide for individualizing and improving instruction. Whether you are a veteran or a first-time instructor of beginning weight training classes, this book provides essential instructional resources, including sample guidelines for initial planning and organization of classes; management, safety, liability, and equipment guidelines; procedures for teaching exercise techniques for both inexperiencedand experienced weight trainers; concepts to emphasize in class lectures; suggestions for identifying and correcting common errors; sample forms for a unit plan; quantitative guidelines for all drills; a test bank of 100 written questions; and suggested program evaluation criteria. In addition to the participant book and instructor guide, the companion Weight Training Video: Steps to Success is an excellent instructional aid that demonstrates the exercises covered in the books.