What Would You Do? A Game of Ethical and Moral Dilemma, Participant Workbook
, by
Ukens, Lorraine L.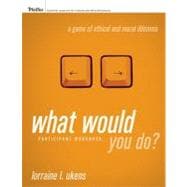 Note: Supplemental materials are not guaranteed with Rental or Used book purchases.
ISBN: 9780787985387 | 0787985384
Cover: Paperback
Copyright: 12/21/2007
What Would You Do? is a team game based on the classic group activity, A Prisoner's Dilemma, one of the most widely known game designs and also one of the earliest attempts to use games to analyze individual and group behavior. The game places two teams (or individuals) in a variety of ethical or moral dilemmas. In each case, the opposing players are deemed responsible for some discretion, and are called to account. Played in rounds, each player can choose between two moves, either "cooperation" (to confess) or "defection" (to remain silent). The (separated) players are aware that they minimize the repercussions when they cooperate, but if only one of them cooperates the other player gets off the hook. What Would You Do? is an excellent way of studying the issues of competition versus cooperation between individuals and among groups because it is one for which the optimal outcome, the one that would be best for both parties, is not always the outcome players will reach. The game allows for the possibility that cooperation can evolve in the long run even though in the short run it seems always better to defect (compete). The leader's guide provides background to A Prisoner's Dilemma and the experimental research that led to the game; complete instructions for running the game; and an expanded debrief section that helps the facilitator guide the team to explore and identify the game's key points. The participant's guide contains a summary of ten different scenarios and scoring sheets for each of the (up to ten) rounds of game play.