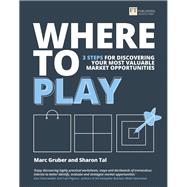 Note: Supplemental materials are not guaranteed with Rental or Used book purchases.
ISBN: 9781292178929 | 1292178922
Cover: Paperback
Copyright: 9/21/2017
As an entrepreneur or innovator, you're trained to run fast. But are you running in the right direction?
Choosing the right market for your innovation is the biggest, and trickiest, question for innovators. Research has shown that all too often entrepreneurs don't spend enough time identifying and researching their market opportunities – instead they jump at the first opportunity that looks good, and fail to properly evaluate and leverage other opportunities. These common mistakes means that you often choose the wrong market or lock yourself into one specific direction.
Where to Play helps you to set a promising strategy, by giving a clear, structured and practical framework - the Market Opportunity Navigator- to better identify, evaluate and focus on the right market opportunities. With three dedicated and reusable worksheets covering:
· Market Opportunity Set – assess your core strengths and identify which market opportunities exist for your business
· Attractiveness Map – evaluate your market opportunities to reveal the most attractive option for focus
· Agile Focus Strategy – create a strategic plan for your chosen market opportunity that keeps you open-minded and agile
Get the most value for your innovation with Where to Play!
'Designed to work seamlessly with our Business Model and Value Proposition Canvases, the Market Opportunity Navigator, proposed by Marc and Sharon, will help entrepreneurs and innovators to commercialise technologies. You will enjoy discovering highly practical worksheets, maps and dartboards of tremendous interest if you want to better identify, evaluate and strategise market opportunities. Let yourself be charmed by the toolkit and the case studies, along with the thoughts of Marc and Sharon.'
Alex Osterwalder and Yves Pigneur, authors of the bestseller Business Model Generation
'When two internationally-known experts in entrepreneurship write a "how to" book on market opportunities for entrepreneurs, it is bound to be a very valuable book indeed. Marc Gruber and Sharon Tal have created just the right book for first-time and experienced entrepreneurs. It contains both step-by-step plans and very valuable tips on identifying market opportunities - an invaluable complement to both the Lean Start-up Process and the Business Model Canvas!'
Eric von Hippel, T. Wilson Professor of Innovation, MIT Sloan School of Management
'Gruber and Tal have crafted a visually exciting way for entrepreneurs to identify and analyse their opportunities, before they dive into execution. This book pairs nicely with the Business Model Canvas and Lean Startup. Best of all, it also tells you how to focus, and what NOT to do!'
Henry Chesbrough, UC Berkeley Haas School of Business and author of Open Innovation
'From entrepreneurship thought leaders comes this innovative step-by-step guide to thinking through the market essentials of an opportunity. Rather than relying on generic examples or others' stories, the authors put the reader in the driver's seat by encouraging him or her to generate, evaluate and prepare to act on their own opportunities. I can't think of a more practically useful entrepreneurship book.'
Dean A. Shepherd, Ray and Milann Siegfried Professor of Entrepreneurship, Mendoza College of Business, Notre Dame University
'Using thoughtful research and compelling examples, Where to Play provides important guidance on how to balance focus and flexibility when laughing a new venture. It builds on the Lean Startup model by providing meaning