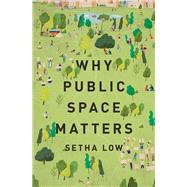 Note: Supplemental materials are not guaranteed with Rental or Used book purchases.
ISBN: 9780197543733 | 0197543731
Cover: Hardcover
Copyright: 12/2/2022
Drawing from decades of research, Setha Low shows how public space contributes to a flourishing society through promoting social justice and democratic practices. Thriving public spaces also enhance creativity, health, urban resilience, and environmental sustainability. Yet more than ever, public spaces across the world are threatened by urban development, privatization and neglect.

Public spaces -- where people from all walks of life play, work, meet, talk, read, think, debate, and protest -- are vital to a healthy civic life. And, as the eminent scholar of public space Setha Low argues in Why Public Space Matters, even fleeting moments of visibility and encounter in these spaces tend to foster a broader worldview and our willingness to accept difference. Such experiences also enhance flexible thinking, problem solving, creativity, and inclusiveness. There are many such spaces, but they all enhance social life. Sidewalks and plazas offer business opportunities for small-scale entrepreneurs who cannot afford store space. Public parks have long provided major cultural attractions, from plays to concerts, at little or no cost to the public. Central squares have a storied tradition as arenas for demonstrations and political protests. Parks and waterways create sustainable greenways, and during disasters, all manner of public spaces become centers for food delivery and shelter. To illustrate their value, Low draws from decades of research in public spaces across the Americas, from New York to Costa Rica.

Yet we are losing public spaces to accelerated urban development and the belief that public spaces are expendable. Just as important is the broad-scale and ongoing privatization of public space by corporate actors. Low explores why public spaces matter today, how they are at risk, and what we can do about protecting these essential places that support our everyday lives. Finally, she shows how we can work to promote public space protection and expansion at both the grassroots and global levels. Throughout, she focuses on real public spaces and the people who use them in cities and regions across the Americas, from New Jersey to Costa Rica. A powerful, defining statement on a foundational contributor to healthy civic life, Low's book not only details what we are at risk of losing, but shows us how we can not only stop the losses, but work to expand the number of spaces available to the public.