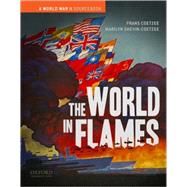 Note: Supplemental materials are not guaranteed with Rental or Used book purchases.
ISBN: 9780195174427 | 0195174429
Cover: Paperback
Copyright: 3/3/2010
An edited volume of primary sources from the Second World War, The World in Flames: A WWII Reader, provides, for the first time, and in a convenient and comprehensive package, an ambitious and wide-ranging insight that conveys the sheer scale and reach of the conflict, and the twelve-chaptervolume includes sufficient narrative and analysis for the reader to grasp both the war's broad outlines and the context and significance of each particular source. Beginning with the growing disenchantment over the World War I peace settlements and the determination of German, Italian and Japanese leaders to revise the situation, the book traces descent into open, armed conflict with the Allies, the spectacular early successes of the Germans and Japanese, thestabilization and eventual pivotal campaigns of 1942, and the arduous efforts over the remaining three years to destroy the Axis capacity to wage war. Examples are drawn from a wide range of documents interspersed with contemporary images such as posters, photos, cartoons.Throughout, the book provides a rounded account of the struggle, balancing a consideration of strategic and tactical issues, the perspectives of the various combatant forces, the different theatres of operations, the various services involved (including aerial and naval warfare), and the experiencesof participants across the spectrum from privates to generals. Furthermore, in addition to illustrating the conduct of the war, it illuminates its consequences for the societies involved. Selections treat the mobilization of labor and intellect, trace the impact upon women and children, and explore the tendency of the war to throw into bold relief both nobleideals and persistent domestic tensions, not to mention the depths of human depravity in the Holocaust. Themes that have a special resonance for the postwar era, such as the perils of nuclear weapons, are also given their due. Coupled with chapter on historical memory, these features enable studentsto appreciate the place of World War II place in the longer course of the twentieth century.