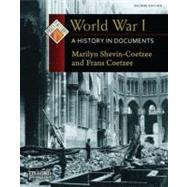 Note: Supplemental materials are not guaranteed with Rental or Used book purchases.
ISBN: 9780199731527 | 0199731527
Cover: Paperback
Copyright: 7/30/2010
The First World War had a colossal impact: The Austro-Hungarian and Ottoman empires dissolved; revolutions toppled the Russian and German dynasties; American democracy was tested; the Western European landscape was ravaged. The immediate cost of the four years was staggering--nearly ninemillion dead and millions more physically or psychologically scarred--but the war's long-term consequences were even deeper.Marilyn Shevin-Coetzee and Frans Coetzee use the editorials, memoirs, newspaper articles, poems, and letters of the day to re-create the many facets of the war. Technological developments such as the machine gun and barbed wire brought the world trench warfare, vividly depicted here in a firsthandaccount of then-soldier Benito Mussolini. But fighting at the front lines was only the most graphic part of this violent time; civilians suffered too. A British parliamentary report recommending that businessman Sir Edgar Speyer be stripped of his citizenship because he had been born in Germanydemonstrates government interference in people's lives. An Atlantic Monthly essay by the African-American sociologist W.E.B. Du Bois draws attention to the conflict's origins in imperialist greed in Africa. A poor French girl's thank-you note to a charitable American demonstrates the plight ofEurope's children. And a photo essay of poster art reveals the passion and propaganda aroused on every side.Such chaos provided a breeding ground for political extremists, such as the Bolsheviks and later the Nazis, and unleashed decades of conflict that encompassed colonial wars for independence, World War II, and the Cold War. The revolutionary changes that resulted and their geographical scope show howwhat was known to many as the Great War marked the real beginning of the twentieth century.This new edition includes an updated introduction with a note on sources and interpretation, twelve new documents, twenty-seven new sidebars, three new images, and updated further reading and websites. The new documents add material on colonialism in Africa and on purely military aspects of thewar--for example, an excerpt on the coming of war in Germany from Stefan Zweig's autobiography; a description of the Brusilov offensive; the diary of a German deserter, an account of the Christmas truce; soldiers' poetry, a diary from the Gallipoli campaign; Jan Smuts's report on fighting in eastAfrica; and a report from the battle of Jutland. There are also several new literary sources, including a poem by Anna Akhmatova. The new images are two satirical German postcards and a broadside of the Proclamation of a Provisional Government of the Irish Republic.